Ace Glass is Richmond's clear choice for Smart Car owners in need of auto glass replacement and repair. The fact is, there simply are not many trustworthy auto glass companies in the Richmond area with the experience and expertise to repair your Smart Car's windshield, window, or back glass quickly, affordably, and with the professional care you deserve.
Get a Free Quote for Smart Car Glass Repair: (804) 379-3368
Smart Cars are quickly becoming a common sight around Richmond, yet despite their small size and durability, Smart Cars are just as vulnerable to glass damage as any other vehicle on the road today. While all Smart Cars share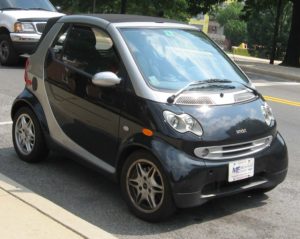 the same compact body design, different models have different and complex auto glass requirements. Unfortunately for the growing number of Smart Car owners, repairing and replacing glass on their vehicles can become a major problem, as well as a major cost.
Unlike a Smart Car dealer or chain auto glass shop, at Ace Glass we are dedicated auto glass experts who will not drain your bank account for shoddy work, or make you wait weeks for an appointment. We will get the job done right the first time, for a reasonable rate, and in far less time than a dealer. Ace Glass technicians are fully qualified to replace and repair auto glass for any Smart Car model, including:
1993 Eco Sprinter and Eco Speedster Concepts
Brabus Tailor Made
Smart Brabus
Smart City Coupe and City Cabrio
Smart Edition #1
Smart Forfour
Smart Fortwo Cabrio
Smart Fortwo Cabriolet
Smart Fortwo ED
Smart Fortwo Electric Drive
Smart Fortwo
Smart K
Smart Roadster
Smart Special Models
Smart Crossblade
Ace Glass has proudly served Richmonders with auto glass damage for more than 15 years. Our highly trained technicians are experts in the latest glass repair technologies for the latest vehicles, including Smart Cars. No other Richmond auto glass company combines Ace's experience and community loyalty like Ace Auto Glass.  Call Ace Glass today for an estimate on your Smart Car auto glass needs.
Call Ace Glass today for a free estimate or to schedule your appointment:
(804) 379-3368